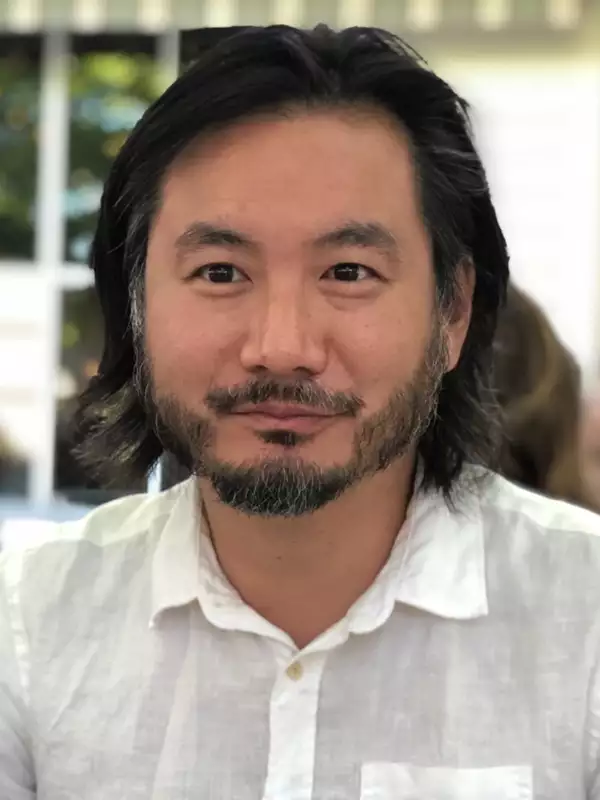 Ken Chen
Assistant Professor, Associate Director of Creative Writing      
Department
Office
Contact
Ken Chen is an Assistant Professor and the Associate Director of Creative Writing at Barnard College. His poetry collection Juvenilia was selected for the Yale Series of Younger Poets Award by Louise Glück, who wrote "Like only the best poets, Ken Chen makes with his voice a new category." His forthcoming book, tentatively titled Death Star, follows his journey to the underworld to rescue his father and his encounters there with those destroyed by colonialism. 
Chen has received fellowships from the Cullman Center at the New York Public Library, the National Endowment for the Arts, the New York Foundation for the Arts, and the Bread Loaf Writers Conference. His nonfiction work has been published in Best American Essays, N+1, The New Republic, Frieze, The New Inquiry, Poetry, and NPR's All Things Considered. He is represented by The Wylie Agency.
Chen served as the Executive Director of the Asian American Writers' Workshop from 2008 to 2019. He has worked as a consultant for numerous organizations, including Creative Capital, the New York Community Trust, the Academy of American Poets, and the National Book Foundation, for which he served as a National Book Award Judge. He also co-founded the cultural website Arts & Letters Daily and CultureStrike, a national arts organization dedicated to migrant justice. He currently serves as a co-editor of the Spatial Species imprint for Coffee House Press and Editor at Large for Astra, a magazine of international literature. 
He has been quoted in NPR's All Things Considered, The Wall Street Journal, CNN, The New Republic, The New Yorker, and The New York Times. A graduate of Yale Law School, he successfully defended the asylum application of an undocumented Muslim high school student from Guinea detained by Homeland Security.
Yale Law School: J.D.
U.C. Berkeley: B.A., English.
Fiction and Personal Narrative
Advanced Poetry Writing II
Poetry
Arts of the Essay
Experimental Literature
Modernism
Ethnic Studies
Asian American Literature
BOOKS
Juvenilia, selected by Louise Glück for the 2009 Yales Series of Younger Poets
POEMS
"Locate" in Poetry, winner of the Bess Hokin Prize from the Poetry Foundation (January 2019)
"The Irony of Bartolomé de las Casas" in The Believer (Oct. 2019)
"What I Saw in Hell" in P-Queue (2019)
"You May Visit the Cosmos but You May Not Speak of It" in Poetry (October 2016)
"I Was Ostensibly Searching for My Father, But." in Harriet (Poetry Foundation) (2016).
"Time is Polyphonic" in Andrew Sullivan's Daily Dish (2013)
"Cruel Cogito" in the Academy of American Poets Poem-A-Day (2013)

"

Fingernails

," a pandemic poem in the Academy of American Poets's Shelter in Place project (May 2020).

"Yes, No, Yes, The Future, Gone, Happy, Yes, No, Yes, Cut, You" in Please Excuse This Poem: 100 New Poets for the Next Generation
"Brief Lives" in Academy of American Poets Poem-A-Day (2011)
"City of Habits" in Fence (2010)
"City You See Through Water" in Jubilat 18 (2010)
"Looking South to the River (II)" (Li Hou Zhu translation) in Boston Review of Books (2004)
ESSAYS, CULTURAL CRITICISM, INTERVIEWS
"

Corky Lee and the Work of Seeing

" in N+1 (2023)

"The Stakes of Dictee: An introduction to a famously difficult work" in

The Yale Review

(2022)

"

Friends and Strangers: John Keene's poetry of others

" in

The Nation

(2022)

"

Between Shame, Desire, and Destiny: On the Genius of Annie Ernaux

" in LitHub (2022)

"Against Loneliness: American Poetry in the 21st Century" in Lana Turner (2020).
"Ethnicity as Counterculture" published by N+1 Paper Monument in "As Radical, As Mother, As Salad, As Shelter: What Should Art Institutions Do Now?" (2018)
"What's The Matter With Poetry?" on Ben Lerner's Hatred of Poetry in The New Republic (2016).
"Authenticity Obsession: Or Conceptualism as Minstrel Show" in AAWW's The Margins (2015)
"The Devil You Know: On Jamie Delano's Hellblazer" in The New Inquiry (2013)
"The Lovely Smallness of Doctor Who" in Film International (2013).
Essay on filmmaker Eugene Green, Film International (2011)
"Walt & I: What's American About American Poetry?," Poetry Society of America (2010)
"City Out of Breath" in Manoa (2006), republished in Best American Essays 2006.
On Tsai Ming Liang's The River in Reverse Shot (2004)
"Four Essays on Luck," Pleiades (2006), "Notable Essay," Best American Essays 2007.
Provisions #8, on the oaths of the Kenyan freedom fighters for Jewish Currents (2020).
"Precarity Screwball: Why 'Awkwafina Is Nora from Queens' Is the Sitcom for Our Times" published by Frieze (April 2020).
Interview with Cathy Park Hong, published in Bomb (Jan. 2020).
"Why A White Poet Posed As Asian To Get Published, And What's Wrong With That" in NPR's All Things Considered (2015)
Interview with Kazuo Ishiguro in AAWW's The Margins (2015)
"On 'Tiger Moms' and other clichés" on CNN.com (2011)
Coeditor of Spatial Species imprint for Coffee House Press with Youmna Chlala (2018 to present).
Editor at Large, Astra Quarterly, a magazine of international literature.
Executive Director of the Asian American Writers' Workshop, 2008 to 2019.
Lead Panelist, Literature, Creative Capital (2019-2020, 2020-2021).
Judge for Literary Arts Emergency Fund, administered by National Book Foundation (2020).
Judge for Poet Laureate Fellowship, Academy of American Poets (2020).
Judge for Vilcek Prize in Literature, awarded to Edwidge Danticat (2020).
Judge for National Book Award in Poetry (2018).
Steering committee member of LitTap (2012-2014), an effort to build NYC literature nonprofits.
National Book Foundation After-Party and Junior Board (2013-2019).
Lead Adviser for MOSAIC, 2018-2019, a multi-foundation project to fund arts groups run by people of color.
Steering committee, LitNet, a national coalition of literary arts nonprofits, 2014-2016.
Adviser for Yale University Press Margellos World Republic of Letters (2011-2018)
Brooklyn Book Festival poetry committee (2012, 2011) and Poetry Coalition (2016-2018).
Editor of Pen America's Pen Ten series: curated interviews featuring women of color (2015-2018).

Co-founder & Steering Committee Chair, CultureStrike, 2010 to 2019

Culture Editor, Arts & Letters Daily, Fall 1998 to Fall 2000
Cullman Fellow in Poetry, New York Public Library (Sep. 2019 to August 2020)
The Bess Hokin Prize for best poem in Poetry magazine for "Locate" (2019)
Named one of the top 100 people in Brooklyn culture by Brooklyn magazine (2016)
Poetry Fellow - National Endowment for the Arts (2012)
Poetry Fellow - New York Foundation for the Arts (2011)
John Ciardi Poetry Fellow Bread Loaf Writers Conference (2010)
"City Out of Breath" in Best American Essays 2006 (Mariner 2006)